Yakima Air Terminal-McAllister Field (YKM) Announces 6-Day Closure of Runway 27 in August 2020 for Rehabilitation
Airport advises passengers to alter their travel plans during construction as airlines will not be able to utilize the airport beginning August 24th through August 29th, 2020.
Friday, January 24, 2020 – The Yakima Air Terminal-McAllister Field (YKM) announced plans to close Runway 27 for 6 days in August to replace the runway edge lights and conduct routine maintenance on the asphalt. The closure will begin on Monday, August 24th, 2020 at 8:00am and is expected to reopen on Saturday, August 29th, 2020 at 8:00pm. Airport officials advises airline passengers seeking to utilize YKM during this time period are encouraged to seek alternative travel arrangements.  During construction activities, passengers may elect to utilize the Airporter Shuttle which provides service between YKM and Seattle-Tacoma International Airport. Passengers may make reservations by contacting the Airporter Shuttle at 866-235-5247 or https://airporter.com/shuttle/reservations/
The closure is being conducted to replace aging infrastructure, which includes replacement of Runway 27's High Intensity Runway Edge Lighting; asphalt crack and fog seal; relocation of an airport navigation aid; and update Runway markings to meet Federal Aviation Administration current standards. Runway 27 witnesses the highest utilization of aircraft arrivals with more than 95% of all flights departing or arriving on this surface. Runway 27 is the longest Runway at YKM extending 7,604 feet long and is the only Runway available to airlines.
With input from airlines at YKM, the project team selected the period between August 24-29, 2020, in order to avoid the busy fall and holiday travel seasons. This timeframe was also chosen for the low probability of precipitation, as dry weather is necessary for asphalt maintenance.
In April, 2020, YKM will seek authorization from the City of Yakima to call for bids for the construction of this project. The Runway 27 Rehabilitation project is a federally-funded project, with an estimated construction cost of $1.4 million.
For additional information, please contact the airport administration office at 509-575-6149 or Robert Peterson, Airport Director, at 509-575-6260 or rob.peterson@yakimawa.gov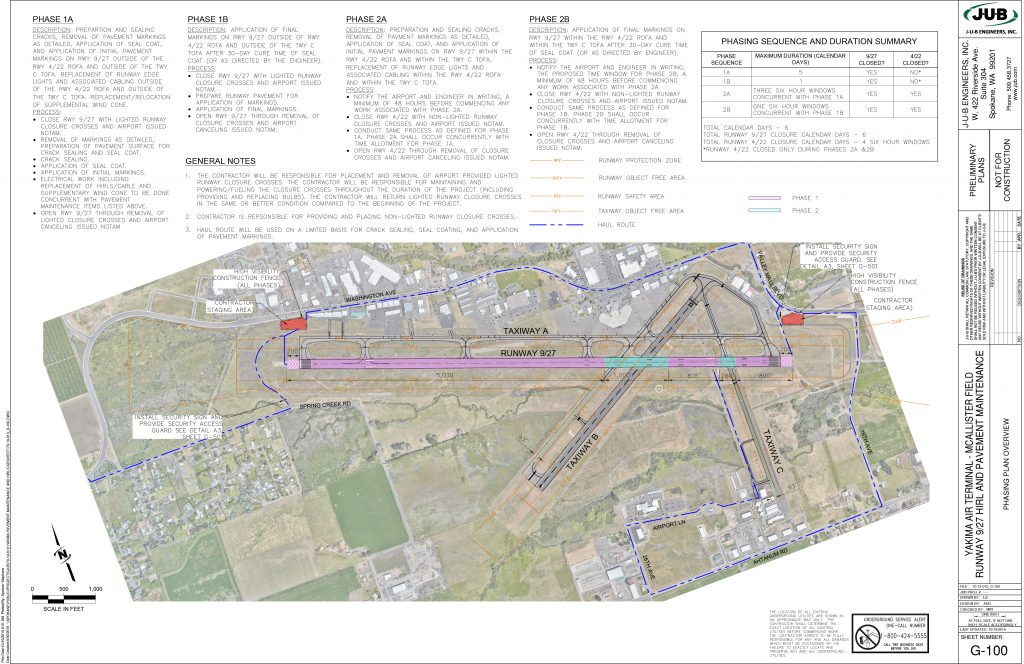 Documents