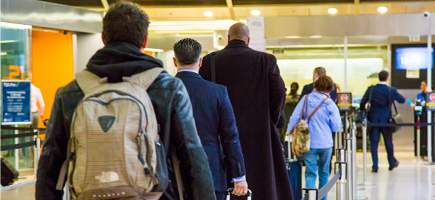 What to Expect
Alaska Airlines customer service ticket counter closes 40 minutes prior to departure.  Passengers who have not received a boarding pass 40 minutes prior to departure may not be able to check-in or board the flight.
We recommend arriving 90 minutes before flight departure for check-in. Peak times may take longer – these are generally early morning departures. The airport opens at 3:30 a.m. each morning.
Passengers should proceed through the security checkpoint at least 45 minutes before flight departure time to ensure that you are at your gate area in time to board the aircraft.
Only ticketed passengers are allowed beyond the security checkpoint. Arriving passengers can be met in the baggage claim area.
Each traveler is allowed a maximum of one carry on bag, plus a personal item such as briefcase or purse.
A current government issued photo identification is required for each passenger upon check-in and prior to entering the security checkpoint.
For further information from the Transportation Security Administration (TSA) click here.
Prohibited Items
For additional information on security requirements and a list of permitted / prohibited items click here.
Many household items are considered Hazardous Materials, click here for items commonly found during security screening.
TSA.gov Videos
Three Simple Steps
Traveling with Children
Laptops and Electronics
Why Shoes?
Why ID?
Why Liquids?